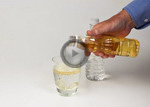 Environmentally Friendly:
Traditional candles are made with paraffin wax which is a by-product of the petroleum industry and should be considered a non-renewable energy source. When burned they release carcinogenic toxins such as benzene, toluene, formaldehyde, acetaldehyde, acrolein and soot into the air. The emissions from paraffin candles contain many of the same toxins produced by burning diesel fuel.
See why having a package of Kevin's Kandles in every kitchen provides a great tool for power failures and Emergency Preparedness.
Kevin's Kandles are
Much safer than traditional candles.
Convenient and Cost-Effective.
Environmentally friendly.